Many questions, few answers on big battery blaze
Australia Financial Review

The investigation into the blaze at Neoen's Victoria Big Battery last week needs to be transparent so that governments, regulators and industry can learn from it and make changes to foster the critical development of large-scale storage, an internationally recognised battery pioneer says.
Christina Lampe-Onnerud, a special board adviser to Australia's Future Battery Industries Co-operative Research Centre, says learning from such "catastrophic" incidents is critical for progress towards building a sustainable energy system.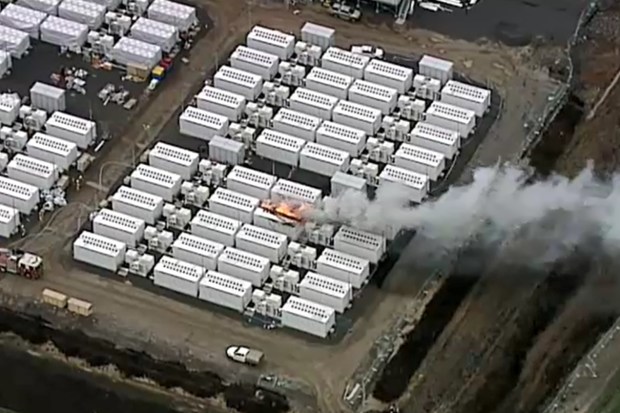 "We need to learn from this. We want to learn from what happened," Dr Lampe-Onnerud told AFR Weekend from her base in Connecticut.
"We are into an energy transition, we have a chance to do something really, really powerful. Of course, there will be small hiccups along the way; let's make sure we commit and then pick solutions that are more suitable for large-scale deployments going forward."
The fire at the 300-megawatt battery project near Geelong, which was in the commissioning phase and which uses Tesla Megapack units, has thrown up questions around the deployment of technology and products popular in Australia's fast-emerging sector for large-scale storage.
A spokesman at the Australian Energy Market Operator said there are now 260 megawatts of batteries connected into the National Electricity Market, and a 21,000-MW pipeline of storage projects proposed over the next decade.
There has been a dearth of early information from either Neoen or Tesla on the circumstances around the fire as the official investigation led by Energy Safe Victoria gets under way.
No response from Tesla
Tesla has not responded to several email inquiries from this paper this week nor made any public statement about the fire. The firm is reported to have stopped answering media inquiries in 2020, with founder Elon Musk saying it would spend money on its products rather than "manipulating public opinion".
However, a customer of Tesla, NSW grid operator TransGrid, which is using Megapacks at its Wallgrove battery being installed in western Sydney, said it was being kept informed about the incident by the firm.
Victorian energy minister Lily D'Ambrosio said useful information from the investigation would be shared but she stopped short of promising to make all the data available.
"I want the community to know that our state's energy safety regulator is investigating this thoroughly and will take all necessary steps to ensure safety always comes first," she said.
"ESV will share information from this incident that could be useful to the sector, as Victoria works to increase the uptake of renewables and support action on climate change," she said.
I think long term….there's a good chance that all stationary storage that is Powerwall and Megapack move to iron.

— Elon Musk, Tesla CEO
ESV chair Marnie Williams said the investigation "will take as long as necessary and if there are learnings to come from this incident, we will make them public".
"We look forward to the completion of the investigation, and to sharing learnings and insights with the industry," said Neoen Australia managing director Louis de Sambucy, adding that the process of connecting the plant into the grid would recommence only once the findings were known.
"From Wednesday, civil and mechanical construction activities on site recommenced and are managed in coordination with the relevant authorities," he said. "We will proceed with energisation only when the outcome of the investigation provides all parties with full confidence that it is safe to do so."
The fire, which took more than three days to extinguish, triggered warnings from the Country Fire Authority of "toxic smoke" in suburbs in northern Geelong, where residents were advised to close doors and windows. No one was injured.
Dr Lampe-Onnerud said that after analysing more than 100 safety incidents at electricity storage facilities, the most likely root cause was an internal short in the cell, which triggered a "thermal runaway", where a cell heats up and transfers heat to an adjacent cell, causing a "cascading" event.
She suggested that failure mode was not considered in the system design, adding that a less likely cause was an electronics failure, where the signal to the battery is sent incorrectly and where again the system did not anticipate the failure.
Dr Lampe-Onnerud, who previously served as co-chair of the World Economic Forum's Global Future Council on Energy Technologies, is the founder and CEO of Cadenza Innovation, a start-up that has introduced a particular design for high-performance lithium-ion batteries to maximise safety and avoid operational risks from fires or explosions.
A spokesman for the Australian Energy Market Operator said the organisation remained confident of the key role batteries would play in the energy system.
"We believe grid-scale batteries will be a key enabler to maximise benefits from intermittent renewable generation," he said, noting that batteries could both soak up and discharge energy, as well as provide network services that were critical to keeping electricity supply reliable and secure.
Dr Lampe-Onnerud said she expected the "incredible" lithium-ion technology to continue to dominate the storage market with its developed global supply chain and established materials, machinery and automation but said systems needed to be engineered differently to manage the risks involved.
Australian battery project developer Maoneng has instead selected a different form of lithium-ion technology, called lithium iron phosphate, for its growing pipeline of large-scale storage projects.
Consultancy Wood Mackenzie predicts that lithium iron phosphate will take over from nickel manganese cobalt oxide as the dominant stationary storage chemistry within the decade and will account for more than 30 per cent of the global market in 2030, up from 10 per cent in 2015.
Mr Musk told Tesla investors on its second quarter earnings call on July 27 that he expected a shift towards iron-based lithium-ion cells over nickel-based ones.
"I think long term … there's a good chance that all stationary storage that is Powerwall and Megapack move to iron,'" Mr Musk said.
"This is most likely the case since you do not need to transport it, and there's lesser volume and constraint for stationary storage. So then nickel would be really for long range, road transports, ships, and aircraft, and that kind of thing."
Expert coverage of Australia's public sector.
Sign up to the Inside Government newsletter.